Impulse welder in use
The Impulse Welder is already building a record in a range of applications. It can accommodate all kinds of needs depending on how it is used.
Plastic + Plastic, or metal/ printed circuit boards, rubber, etc. (dissimilar materials)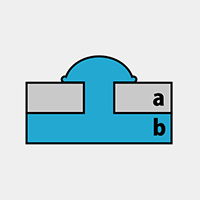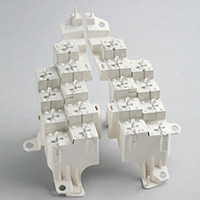 ■This is the most basic: welding is possible even if a and b are different materials.
■Low welding pressure leaves little impact on the surface.
■After the welding head is molded, the strength is raised with sufficient heating.
Automotive: Tail lamps, high-mounted lamps, trunk side, side mall, dashboard (meter panel, shift bar, steering wheel cover), seat peripherals
Electric: Cell phone cases, digital camera parts, digital appliances (board-fixed)
Precision parts: Camera lens parts, electronic parts
Plastic + Plastic(same materials)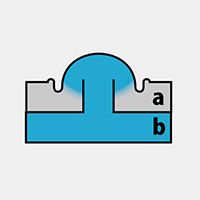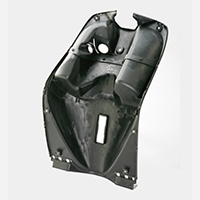 ■Welding deeply and melting all the way to plastic a lets plastics a and b bond and create good sealing characteristics.
Automotive: Door trim, Deck side trim, Pillars
PC: Computer mice
Plastic + wire mesh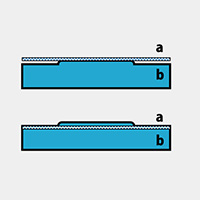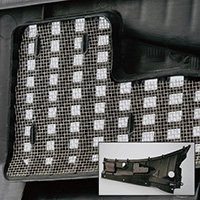 ■Welding can be done without making holes in wire mesh.
Automotive: Cowl louver mesh
Other: Mesh filter attachments
Plastic + Nonwoven fabric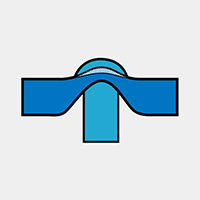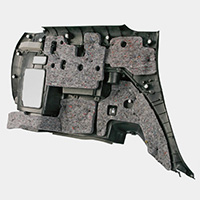 ■Welding can be accomplished by putting plastic in the fiber and melting over it.
Automotive: Nonwoven fabric attahced to the inside surface of door trim
Nonwoven fabric attahced to the inside surface of pillars (Even PET and Thinsulate can be used)
Plastic + Membrane filter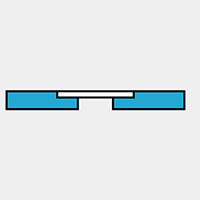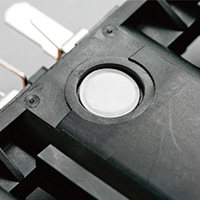 ■Welding can be accomplished by applying heat directly from the top of the filter.
Parts that require waterproofing, but also demand ventilation and need to be able to let air out.
Automotive: ABS (antilock brakes), Motor parts, Electronic parts
Hole sealing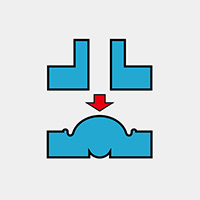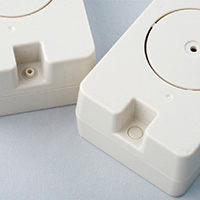 ■Holes for outlets for blow molding and such can be sealed.
○Blow molding outlet
○Relay cases
○FFS method electrode hole processing
Flathead tip welding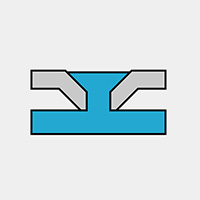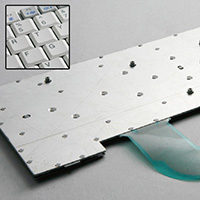 ■Flathead tips can be crimped so as not to extend heads beyond surfaces at hold points or C-surface cutting.
○Iron boards attached to the backs of keyboards
○Terminals attached to batteries
Embedding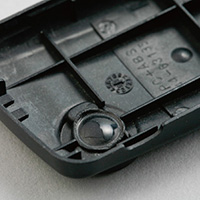 ■Flanged nuts can be embedded and holes sealed.
○Cell phone case
Lens periphery crimping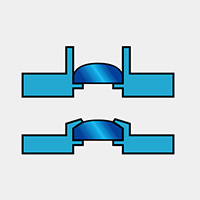 ■The circumference ribs around lenses can be fixed with thermal crimping(No rattling or rotation occures.)
○Camera lens
○Metal part fixture
Nut press fitting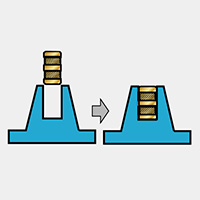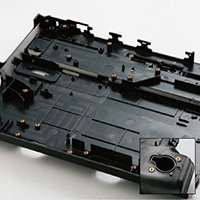 ■Welding can press-fit bit insert nuts using impulse.
Automotive: ○Intake manifold, ○ Air filter
Electric: ○Audio products, etc.